NEW on Tinka Steinhoff Booking:

Christoph Pepe Auer

Christoph Pepe Auer is a multi-award-winning Austrian clarinettist, saxophonist and sound painter, always in search of new sounds and forms of expression. Currently he convinces in his congenial line-up with Clemens Leopold Sainitzer (cello), Mike Tiefenbacher (piano) and Christian Grobauer (drums), carefully placed electronics and specially conceived or converted instruments in a diverse and captivating program called "White Noise".


In addition, he is on the road in a duo with guitarist Manfred Temmel in an internationally awarded, very entertaining school, family and children's program that does without language: Pepe & Speedy. Among other things, this has already captivated audiences over four years in the Elbphilharmonie and at the festival in Bergen, Norway.


News, in chronological order:


> Thanks to streaming concerts, there is a lot of new live video material that will be released and promoted on social networks in the coming months.


> In summer Pepe turns forty and this will be celebrated in a big way. August 28th in Vienna's Porgy & Bess is already confirmed as the birthday concert, we are looking forward to more requests for this unique surprise package!


> From October 22nd to 30th a tour with "White Noise" is planned, the first dates are already set, see below. Connection dates are welcome - as well as other requests apart from that.


> New music is in the works and will be premiered at the next opportunity!

Obviously, we are totally aware of our chances for this year. But, you know. We're also optimists. And time can fly.

Spring is just around the corner, stay safe
Tinka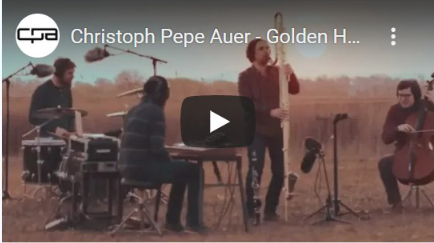 Line-Up:


Christoph Pepe Auer, clarinets, saxes, electronics




Clemens Sainitzer, cello




Mike Tiefenbacher, piano


Christian Grobauer, drums

Press:
"With cello, synthesizer, piano and drums, the passionate explorer creates absolutely extraordinary music" Kurier, AT


More Infos (click on pictures):
Tourdates & Avails (no guarantee)
25.02.21 DE-Frankfurt - Fabrik*, to be postponed
26.06.21 DE-Koblenz - Jazzclub Festival*
28.08.21 AT-Vienna - Porgy & Bess
22.10.21 DE-Hamburg - Halle 424*


23. - 30.10.21 available


27.10.21 DE-Hameln - Doubletime Jazzclub, tbc
29.10.21 DE-Karlsruhe - Tempel


*was booked and will be handled via Christoph Pepe Auer's former booking agency.