Tinka Steinhoff Booking

EYOLF DALE TRIO - BEING/Edition Records
"A future piano classic" Jazzthing, DE // "A hypnotic beauty" France Musique, FR // "

Often lyrical, always multi-layered and of enormous depth."

hr2 Kultur, DE //

"Richness of colour"

Deutschlandfunk, DE //

"masterpieces of trio art. "

SWR2 Radio, DE //

"This winter's big jazz album"

DN Magasinet, NO //

"a timeless jazz album"

Written in Music, NL //

"delicate lyricism"

Jazzviews, UK //

"lyrical music, often fragile, sometimes intense, colorful, deep and soaring"

Jazzport, CZ // "a masterpiece" Salt Peanuts, NO // "Luxurious, huge, beautiful, a demonstration of Power" Jazznytt, NO
News from Eyolf Dale, Audun Kleive and Per Zanussi:


> the word "lyrical" is not exactly rarely used in connection with Scandinavian jazz. But when words like "masterpiece", "classic", "timeless" & "great" are repeated with such frequency as after the release of BEING/Edition Records of the Norwegian piano trio around Eyolf Dale, it's a reason to listen


> Jazz and cultural radio stations all over Europe, Australia, the USA and Japan have discovered several songs for their airplay


> Friends of physical music mediums don't have to despair with the iconic British label. Especially the vinyls are worth the click on the label shop!


> If you're still thinking about booking the three Norwegians, and/or somehow have to get the time until summer behind you in a positive way, feel free to get a download link from me.


> We are working in Europe mainly on a tour at the beginning of April next year. There's also the possibility to connect your request with the tour in Germany end of November, first week of December.


Looking forward to hear from you!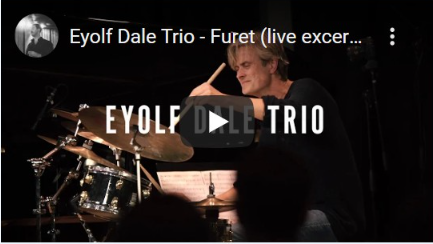 Line-Up
Eyolf Dale, piano /

Per Zanussi, bass/

Audun Kleive, drums
"Until now he was known (...) mainly as the leader of the wonderful octet Wolf Valley, with which he creates a very colorful music, in which dramaturgy plays a special role. With "Being" Dale has now very successfully transferred this approach to trio playing. (Audun Kleive & Per Zanussi's) nuanced playing (...) contributes a lot to the richness of color of this record."

Deutschlandfunk, DE
"There will probably not be a more intelligent, more subtle trio record this year." Kulturnews, DE

"BEING by Eyolf Dale has become a very emotional album. Often lyrical, always multi-layered and of enormous depth."

hr2 Kultur radio, Jazz Now, DE
"The compositions are masterpieces of the trio art."

SWR2, DE
"A subtle groove and intense lyricism that have already earned him more than 6 million connections on Spotify for his previous albums. A hypnotic beauty."

France Musique, Open Jazz, FR
"This winter's big jazz album (...) Beautiful and imaginative from the piano trio by Eyolf Dale."

Dagens Næringsliv (DN) Magasinet, NO
"Artistically sophisticated, but at the same time down to earth. In times of Corona, live music has become quiet. But with Being on the headphones, it's almost like "being there".

LIRA Musikmagasin, SE
"A future piano classic"

JazzThing, DE
"With its classic structure and playing freedom, Being has become a timeless jazz album that puts Dale more than ever on the global jazz map."

Written In Music, NL
"Luxurious [...] Huge [...] Beautiful [...] Demonstration of Power"

Jazznytt, NO
28.05.21 NO-Porsgrunn - Elvespeilet
10.06.21 NO-Tonsberg - Urijazz
22.10.21 NO-Oslo - Konserthus
30.11.21 DE-Kassel - Theaterstübchen
01.12.21 DE-Hameln - Doubletime Jazzclub
02.12.21 DE-Hameln - Doubletime Jazzclub
03.12.21 DE-Gelsenkirchen - Public Jazz
04.12.21 DE-München - Unterfahrt
02.04.22 NL-Tilburg - Paradox