Tinka Steinhoff Booking Artist:

Daniel Herskedal

Hi,

News from Daniel Herskedal:

> as a bonus track from the quartet album "Voyage"/Edition the brand new single "Whale Song" has just been chosen for Spotify's State of Jazz cover! See below.

> for his Solo album "Call For Winter"/Edition, he is nominated for the Spellemanprisen, Norway's Grammy, in the category "Best Composition" (cross-genre). Fingers crossed!

> Herskedal just cracked the line for a million listeners on Spotify for the song "Eternal Sunshine Creates A Dessert" from the album "The Roc" and is almost there with "The Mistral Noir" (video below) from the album "Slow Eastbound Train" (all Edition).

> The next album is going to be a trio album (with Eyolf Dale, piano & Helge Norbakken, percussions) and will be released in early autumn this year (Edition).

Numbers, clicks and facts. Important, of course, but in the end not what we're doing this for. Lovely encounters, making memories, creating those very special experiences that the whole culture work is all about. For me, personally, Daniel, Eyolf & Helge are totally worth the waiting. The atmosphere they are able to create on stage is outstandingly intense and unique.

Norwegian requests are surely the easiest to achieve until summer. As for the rest: there is a slot in September we're still holding on to. And they won't be gone in 2022. LIVE will be better, it must be.

All our best,
Tinka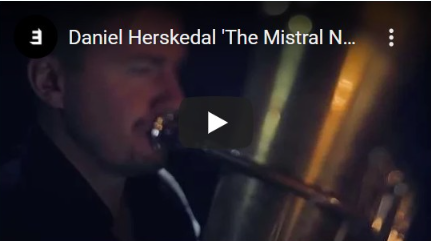 Line-Up:
Daniel Herskedal, tuba, bass trumpet / Eyolf Dale, piano / Helge Andreas Norbakken, percussions

Press:

"It feels like the spotlight is on the tuba as a jazz instrument at the moment and Daniel is one of the leading exponents of this, playing it with stunning virtuosity…that was amazing stuff…his ability to play fast and with rhythmical intensity in the lowest of the tuba's registers is a joy to listen to."
BBC3, UK


"Herskedal's performance is impressive but his ever-growing voice as composer gives this Voyage its zest and drama."
All About Jazz, USA


"It's immensely gratifying to witness a young musician as gifted as Herskedal furthering his concept year after year in inventive ways right before our very ears."
In On The Corner, USA


"the band opens up completely new worlds of sound on the fringes of jazz, classical music and folk through a unique instrumentation with piano, viola, percussion and tuba"

WDR 3, CD of the week, DE


More Infos (click on pictures):
Tourdates & Avails (no guarantee)


20.05.21 BE-Bornem - CC Ter Dilft/solo
08.06.21 PL-Katovice - NOSPR/Trio
11.06.21 DE-Lüneburg - Kulturforum/Trio
25.06.21 DE-Bingen - Jazzfestival/Quartett
26.06.21 DE-Speyer - Palatia Jazz Festival/Quartet


10th to 12th September 21: available


November 21: two confirmed tours in Norway.