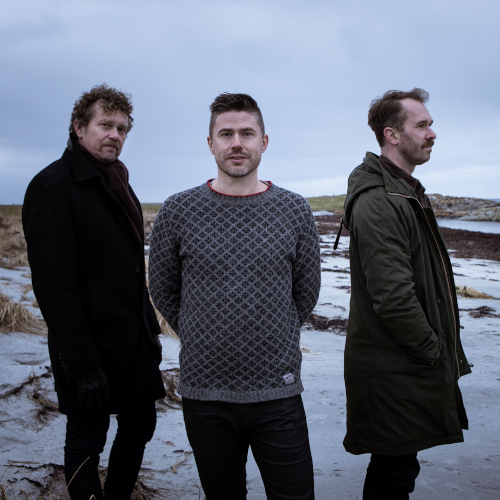 Deutsch weiter unten.
HARBOUR
Daniel Herskedal is the epitome of brilliance – an esteemed composer of beautifully lyrical, rhythmically charged music and a world-class performer and technically proficient on an instrument he has made uniquely his own.
Coming off the back of winning a Spellemann Award (Norwegian Grammy) for his 2020 solo album 'Call for Winter', Daniel Herskedal's new album that will cement his position as one the most exciting, prolific and inspiring musicians of his generation in Europe.
Harbour, his sixth album on Edition Records, reunites his long term collaborators, pianist Eyolf Dale and Andreas Helge Norbakken: a band that gets stronger and stronger with each release. Their joint sonority and musical depth is overwhelming, full of awe-inspiring melodies soaring over a bed-rock of rhythmical precision laid down by Dale and Norbakken.
The Norwegian landscape has always played a vital role in Daniel's music – natural, bold, vast but with a sense of minimalism in the space and wild openness. Harbour's inspiration comes from a sense of being close to the sea and taking shelter from the storms and wild elements.
Daniel has proved he has the facility, vision and musicianship to push the boundaries of his instrument, technically and sonically, further than anyone before. Harbour is the result of a consummate musician perfecting his craft and musicianship over many years. Truly spellbinding!
HARBOUR
Daniel Herskedal ist der Inbegriff von Brillanz - ein gefeierter Komponist wunderschöner lyrischer, rhythmisch aufgeladener Musik und ein Weltklasse-Interpret, der ein Instrument beherrscht, das er auf einzigartige Weise zu seinem eigenen gemacht hat.
Nach dem Gewinn des Spellemann Awards (norwegischer Grammy) für sein 2020 erschienenes Soloalbum Call for Winter" wird Daniel Herskedal mit seinem neuen Album seine Position als einer der aufregendsten, produktivsten und inspirierendsten Musiker seiner Generation in Europa festigen.
Harbour, sein sechstes Album bei Edition Records, bringt seine langjährigen Mitstreiter, den Pianisten Eyolf Dale und Andreas Helge Norbakken, wieder zusammen: eine Band, die mit jeder Veröffentlichung stärker und stärker wird. Ihr gemeinsamer Klang und ihre musikalische Tiefe sind überwältigend, voller beeindruckender Melodien, die über einem Fundament aus rhythmischer Präzision schweben, das von Dale und Norbakken gelegt wird.
Die norwegische Landschaft hat schon immer eine wichtige Rolle in Daniels Musik gespielt - natürlich, kühn, weitläufig, aber mit einem Gefühl von Minimalismus im Raum und wilder Offenheit. Die Inspiration für Harbour kommt aus der Nähe zum Meer und dem Schutz vor der stürmischen norwegischen Natur.
Daniel hat bewiesen, dass er die Fähigkeit, die Vision und das musikalische Können besitzt, die Grenzen seines Instruments technisch und klanglich weiter zu verschieben als jeder andere zuvor. Harbour ist das Ergebnis eines vollendeten Musikers, der sein Handwerk und seine Musikalität über viele Jahre hinweg perfektioniert hat. Wahrhaftig fesselnd!
Daniel Herskedal, tuba, bass trumpet / Eyolf Dale, piano / Helge Andreas Norbakken, percussions
TERRITORIES
World
Booking in Italy by Bianca Amaducci info@tourbilion.com
TOURDATES AND AVAILS
09.07.23 RO-Gărâna - Jazz Festival / Trio
12.07.23 DE-Dresden - Unkersdorfer Kirche / Solo
13.07.23 CZ-Prague - Novoměstská radnice / Solo
14.07.23 CZ-Polička - Colourmeeting / Solo
29.07.23 LV-Riga - Festival Porta / Solo
20.10.23 NO-Brandbu - Hadeland Jazzforum / Trio
21.10.23 NO-Oslo - Victoria / Trio
22.10.23 NO-Ålesund - Spjelkavik kyrkje / Trio
02.11.23 NL-Amsterdam - Bimhuis / Trio
04.11.23 NL-Tilburg - Paradox / Trio
03.12.23 EST-Tallinn - Jazzkaar Christmas Jazz, Niguliste Church / Solo
17.02.24 BE-Turnhout - Warande / Solo
20.02.24 BE-Leuven - 30cc / Solo
21.02.24 BE-Roeselare - De Spil / Solo
22.02.24 BE-Bornem - Ter Dilft / Solo
23.02.24 BE-Brussels - Bozar / Solo
24.02.24 BE-Sint Niklaas - Cultuurcentrum / Solo
25.02.24 BE-Brugge - Cultuurcentrum / Solo
15.04.24 DE-Munich - Bergson / Solo
16.04.24 CH-Zürich - Kulturmarkt / Solo
17.04.24 LI-Schaan - TAK / Solo
23.04.24 PL-Katowice - NOSPR / Solo
Harbour: 
"In ten compositions, the three wonderfully harmonious musicians create moving images of beaches and ships, tides and storms and the eponymous port as a protective place of security." WDR, Album of the week, DE
«The rich depth of the music and the emotion brought to bare by all three musicians have created something rather special.» London Jazz News, UK
"The three fantastic musicians in Daniel Herskedal's band invite us on an inner journey that is exciting, original, searching and last but not least unspeakably beautiful." Nettavisen, NO
"The forth album of the trio reveals a fascinating new masterpiece. […] Placing the adventurous compositions by Herskedal in the hands of Norbakken and Dale definitely means a tripling of the intensity. Hearing these three men at work together has always been a great pleasure. With Harbor they exceed expectations." Written In Music, 4,5/5 , NL
"an outstanding tuba player" SWR 2 Radio, DE
«The astonishing musical imagination of Norwegian tuba virtuoso Daniel Herskedal transforms an instrument too often associated with the functional and the lugubrious into a voice of sonorous beauty and passion.» ★★★★★ The Scotsman, UK
«It is a miracle that this range of sounds is produced by only three musicians.» France Musique, FR
«A beautiful blend of musicality and sonic storytelling that steers a true course through new, uncharted, waters.» Buzzmag, UK
«The reigning king of jazz concept albums, Herskedal grants each piece a fitting and evocative title, and despite the ever-present theme it never feels forced or hackneyed.» Presto Music, UK
«In its quiet, imaginative way the album is simply riveting.» Making A Scene, UK
"Daniel carries melodies as impressive as they are accessible. Bewitching." Jazz News, FR
"...so hypnotically pleasant, so engaging, balancing humble moments of beauty through caressing listening." Music for Watermelons, IT
Older reviews: 
"It feels like the spotlight is on the tuba as a jazz instrument at the moment and Daniel is one of the leading exponents of this, playing it with stunning virtuosity…that was amazing stuff…his ability to play fast and with rhythmical intensity in the lowest of the tuba's registers is a joy to listen to." BBC3, UK
"Herskedal's performance is impressive but his ever-growing voice as composer gives this Voyage its zest and drama." All About Jazz, USA
"It's immensely gratifying to witness a young musician as gifted as Herskedal furthering his concept year after year in inventive ways right before our very ears." In On The Corner, USA
"the band opens up completely new worlds of sound on the fringes of jazz, classical music and folk through a unique instrumentation with piano, viola, percussion and tuba" WDR 3, CD of the week, DE
"Daniel Herskedal puts the sound concept of this fabulous ensemble at the service of hope: for permanently open borders, for cosmopolitanism and hospitality. Anyone who thinks "We can do it!" when listening to Herskedal's music is not wrong." NDR, CD of the week, DE
"Daniel Herskedal [...] has been helping the brass to new splendor for several years. With a personal creative will that combines interesting melodies and lyrical depth, subtle timbres and improvisations." FAZ, DE
"individual and expressive statement with an original sound, of rhythmic strength and unusual timbres" Die Welt, DE
"'Voyage' [...] is energetic and at the same time graceful and astonishingly homogeneous, although each piece of Herskedal's complex compositional art varies." Jazzthing, DE
"[...] a highly inspired sound journey with lyrical, percussive jazz with influences from all over the world, exciting from beginning to end."Concerto, AT
"Herskedal plays the tuba in such an original way that you cannot get the sound out of your ears." Kulturtipp, CH
"Der norwegische Tubist Daniel Herskedal ist ein aussergewöhnlicher Musiker mit ungewöhnlichem Instrument. Spielt er seine Tuba, vergisst man schnell den Ruf der Schwerfälligkeit, unter dem sein Instrument oft leidet." Jazz'n'More, CH
---
PROMOMATERIAL [DOWNLOADS]