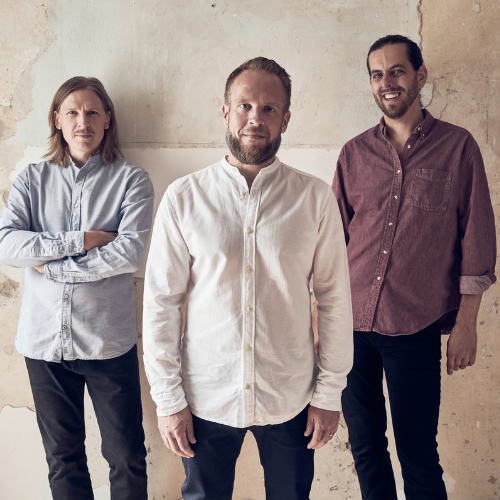 Deutsch weiter unten!
LAYERS OF LIFE
Emil Brandqvist is a composer and bandleader with a remarkable sense of melody and simplistic beauty, and the atmospheric and cinematic compositions draw inspiration from both folk and classical music. Together with renowned pianist Tuomas Antero Turunen and bassist Max Thornberg, Brandqvist forms a trio with flowing dynamic piano jazz as their signature.
Since the release of the debut album Breathe Out, Emil Brandqvist Trio have established a position as one of Europe's most exciting jazz trios. The group's records have been hailed; Seascapes was nominated for an Echo award in Germany and Falling Crystals was listed at number 7 on the German jazz list. The 2018 release of Within a Dream was met with raving reviews and peaked at no. 3 on the German jazz list.
Emil Brandqvist Trio have distinguished themselves as a brilliant live act in recent years. Successes in Germany have been followed up with performances in Sweden, Finland, Austria, the Czech Republic, Ireland, France, and South Korea.
2023 will mark the year of a new album coming out: LAYERS OF LIFE/Skip Records
LAYERS OF LIFE
Emil Brandqvist ist ein Komponist und Bandleader mit einem bemerkenswerten Sinn für Melodie und schlichte Schönheit, seine atmosphärischen und filmischen Kompositionen sind sowohl von der Volksmusik als auch von der Klassik inspiriert. Zusammen mit dem renommierten Pianisten Tuomas Antero Turunen und dem Bassisten Max Thornberg bildet Brandqvist ein Trio mit fließendem, dynamischem Piano-Jazz als Markenzeichen.
Seit der Veröffentlichung des Debütalbums Breathe Out hat sich das Emil Brandqvist Trio als eines der aufregendsten Jazztrios Europas etabliert. Die Platten der Gruppe wurden hochgelobt; Seascapes wurde in Deutschland für einen Echo nominiert und Falling Crystals wurde auf Platz 7 der deutschen Jazzcharts gelistet. Das 2018 erschienene Album Within a Dream erhielt begeisterte Kritiken und landete auf Platz 3 der deutschen Jazzcharts.
Das Emil Brandqvist Trio hat sich in den letzten Jahren als brillanter Live-Act profiliert. Nach Erfolgen in Deutschland folgten Auftritte in Schweden, Finnland, Österreich, Tschechien, Irland, Frankreich und Südkorea.
2023 wird ein neues Album erscheinen: LAYERS OF LIFE/Skip Records
Emil Brandqvist - drums
Tuomas Antero Turunen - piano
Max Thornberg - bass
TERRITORIES
GAS: exclusive
ROW: non-exclusive
TOURDATES AND AVAILS
25.09.23 SE-Göteborg - Konserthuset
23.10.23 SE-Varberg - Teatern
24.10.23 DE-Oldenburg - Singers & Players Club
26.10.23 FR-Saint-Just-en-Chaussée - Festival Jazz du Plateau Picard
27.10.23 DE-Viersen - Jazz Circle*
28.10.23 DE-Paderborn - Jazzclub
29.10.23 DE-Helmbrechts - Textilmuseum*
11.11.23 SE-Älmhult - Music and Arts Festival
18.11.23 DE-Illingen - Illipse
19.11.23 DE-Freiburg - Jazzhaus
20.11.23 AT-Innsbruck - Treibhaus
23.11.23 DE-Kassel - Theaterstübchen
24.11.23 DE-Köln - King Georg (two concerts)
16.03.24 DE-Dötlingen - Kultur hinterm Feld
17.03.24 DE-Bamberg - Jazzclub
18.03.24 CZ-Prague - tba
19.03.24 DE-Frankfurt - HfMDK
22.03.24 DE-Essen - Marienforum*
23.03.24 DE-Bremen - KITO
*booked and handled by their former agency
"Typically Scandinavian in sound and performance – very lyrical piano, almost classical, hypnotic bass and drums" Jazzwise, UK
"true sound painting artists" 3Sat Kulturzeit, DE
"an unmistakable sense of sincerity and purpose" Jazz Journal, UK
"Wonderfully beautiful" Jazzenzo, NL
"remarkably sonorous and beautiful record" Dagbladet, NO
"Brandqvist has a flair for ethereal melodies that take the listener on journeys through whatever landscape." Lira, SE
"The music may embody something like an ideal Scandinavian sound that resonates perfectly with international jazz audiences." Jazzthing, DE
"one of the most lyrical drummers of his generation" Jazzthetik, DE