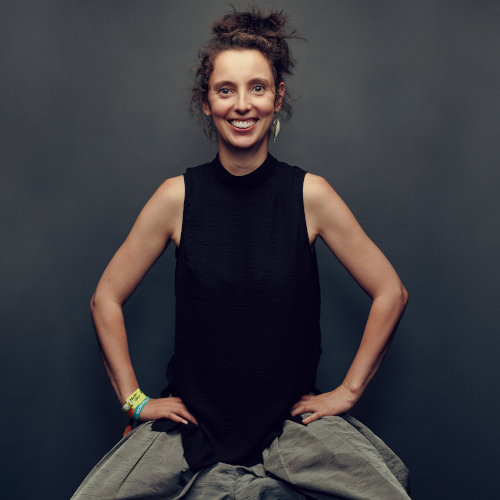 Swiss harpist Julie Campiche's work is an on-going process of musical innovation. She has developed the use of electronic effects that enhance the scope of her improvisational work and found a very personnel technique and her own musical language. Julie performs in numerous European clubs and festivals on a regular basis.
After 8 years with her project Orioxy, Julie has begun a unique musical adventure in a pure instrumental form with the eponymous Julie Campiche quartet. It features a new generation of Swiss musicians, who employ electronic effects which intertwine in a delicate yet powerful acoustic space, balancing structured passages with open improvisations.
For the past four years, they have been touring Europe and played more than 60 concerts, were nominated to represent Switzerland at the 12 Points Festival and were on the short list for Montreux Jazz New Talent 2018. Their debut album Onkalo, released in February 2020 on Meta Records, has received a very warm welcome from the European press and continues to make headlines.
Leo Fumagalli, saxophone & FX
Julie Campiche, harp & FX
Manu Hagmann, double bass & FX
Clemens Kuratle, drums
TERRITORIES
exclusively: Germany and Austria
nonexclusively: ROW

TOURDATES AND AVAILS
19.04.22 PL-Katowice - JazzArt Festival/NOSPR
16.07.22 FR-Strasbourg - Jazz à la petite France
07.10.22 DE-Delmenhorst - Jazzfestival
08.11.22 DE-Jena - Café Wagner
24.11.22 DE-Köln - King Georg
26.11.22 DE-Wain - Kulturstadel
29.11.22 DE-Kassel - Theaterstübchen
30.11.22 DE-Berlin - A-Trane
01.12.22 DE-Gelsenkirchen - Burg Lüttinghof
02.12.22 DE-Ulm - Einsteinhaus
03.12.22 CH-Lausanne - Chorus
09.12.22 CH-Neuchâtel - Théâtre Le Pommier
"This Swiss harpist looks the times we live in straight in the eye. Her music dramatically expresses the anguish that stirs within us and the healing solutions to which she aspires." Telerama, FR
"She is one of the rare harpists who have made a place for themselves in the world of Jazz. Julie Campiche, composer and inspired instrumentalist, subtly intertwines electronic effects with acoustic sound to create somber yet luminous lyrical worlds." Canard Enchaîné, FR
"Onkalo represents an impressive musical statement from Campiche and her well balanced and highly talented quartet. (…) Campiche is a composer of vision and ambition and these pieces impress with the broadness of their scope and their effective use of colour, texture and dynamics." The Jazz Mann, UK
"More subtle, yet equally impressive, Swiss harpist Julie Campiche's UK debut revealed a unique voice both in her electronically processed instrument and the style of her playing." Jazzwise Magazine, concert review Cheltenham Jazz Festival, UK
"A singular voice, Camiche is carving out her own path and her development will merit watching." All About Jazz, concert review 12 Points Festival, UK
"Die Schweizerin Julie Campiche ist eine Meisterin an der Harfe." Süddeutsche Zeitung, DE

"Die Schweizer Harfenistin Julie Campiche spielt mit den Extremen, um ihre Wirkung zu erhöhen. Die vier Instrumentalisten formen ihre Werke wie Skulpturen, lehnen sich an den ECM-Sound an, ohne ihn zu kopieren, und interagieren dreist und mutig mit der Stille. Dabei stehen Freigeister wie Tom Waits, CocoRosie, Portishead, Keith Jarrett, Joe Henry und Arvo Pärt Pate. (...) Ein wunderbarer Prototyp für üppigen Minimalismus." Jazzthing, DE
"vermag einen erstaunlichen Sog und Groove zu entwickeln."Jazz'n'More, Konzertbericht Schaffhouser Jazz Festival, CH
"La tension est extrême, et le disque sur un fil. On en ressort secoué mais certain de ne jamais avoir quitté la lumière" Citizen Jazz, FR

"En live, c'est un envoûtement" Télérama, FR
---
PROMOMATERIAL [DOWNLOADS]