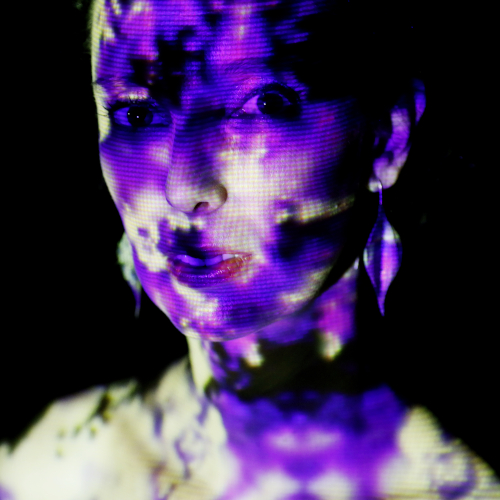 YOU MATTER
The Julie Campiche Quartet have returned with their sophomore album 'You Matter'. An experimental body of work, avant-garde jazz that has the magical, unexpected and emotive sounds of the harp at its core, with  a compelling and hopeful message to the world around themes of climate change, refugee crisis, the patriarchy and human identity in these dark and troubled times.
Experimental jazz harpist, vocalist, composer, electronic producer and bandleader Julie Campiche's musical language is an on-going process of combining her thoughts on the world with musical innovation, spanning jazz, classical, electronic and avant-garde experimentation to infuse her music with an urgent fragility. Early in her career, Julie pioneered the style of harp jazz, seeing the jazz, classical and contemporary music scenes develop into one which is now hugely diverse and experimental for harpists.
Leo Fumagalli, saxophone & FX
Julie Campiche, harp & FX
Manu Hagmann, double bass & FX
Clemens Kuratle, drums
TERRITORIES
exclusively: Germany and Austria
Booking in France by Ourida  Yaker tnsprod@gmail.com
ROW in cooperation with Ourida Yaker!

TOURDATES AND AVAILS
Quartet 
2023
11.05.23 LU-Dudelange - Like A Jazz Machine
13.05.23 CH Schaffhousen - Jazz Festival
25.05.23 CH-Lausanne - RTS, studio 15
28.05.23 UK-Manchester - Jazz Festival
02.06.23 UK-London - World Heart Beat
06.06.23 CH-Zurich - Moods
08.06.23 DE-Munich - Unterfahrt
09.06.23 DE-Görlitz - Jazztage
08.07.23 CH-Montreux - Jazzfestival
27.07.23 DE-Augsburg - Jazz Festival
27.09.23 CH-Zurich - Jazz Im Seefeld
29.09.23 DE-Berlin - Jazzexzess
03.10.23 CH-Geneva - Spectacle Onésiens, ContreBand Jazz Festival
27.10.23 IT-Altamura - Teatro Mercadante
2024
01.02.24 AT-Graz - Tube's
02.02.24 AT-Graz - Tube's
03.02.24 DE-Bamberg - Jazz Club
12.03.24 DE-Kassel - Jazzfrühling
14.03.24 DE-Köln - King Georg
Solo 
2023 
24.06.23 CH-Geneva - AMR / Fête de la musique
29.06.23 FR-Vienne - Jazz à Vienne / Yoga en musique
30.06.23 FR-Vienne - Jazz à Vienne / Yoga en musique
02.07.23 FR-Vienne - Jazz à Vienne / Concert de l'Aube
NEW Solo Repertoire
2024
08.03.24 CH-Vernier - Saison culturelle
Duo with Claire Huguenin 
2023
01.04.23 CH-Genève - Maison Rouseau, Printemps de la Poésie
17.06.23 CH-Bulle - Festival Altitudes
30.07.23 CH-Bulle - Chapiteau
Duo with Anders Jormin
30.03.23 SE-Stockholm - Stallet Teater
Duo with Théo Ceccaldi
07.04.23 FR-Coutances - Jazz Sous Les Pommiers & festival Cap sur Image
YOU MATTER:
"powerful stuff, driven by the reined-in pyrotechnics of Campiche's simmering range and aspirations for change" Jazzwise, UK
"This is music of the future performed here and now ... Beautiful, musical and profound. Five minutes was engough to realise we are in the hands of a visionary" The Cambridge Critic, UK
"To be honest I was so absorbed in the music by this point that I'd stopped taking notes, happy to immerse myself in the richness of the quartet's sound and the multiple twists and turns of the writing" the JazzMann, UK
"A very rightly highly praised quartet ... OUr world desperately needs a few wake-up calls, both musically and otherwise" hr2 Kultur, DE
"One of the most exciting jazz bands in Switzerland ... This is European jazz of the top class." Tagblatt, CH
"Atmospherically dense, psychiacally and emotionally charged, sometimes elegiac, sometimes mystical" Jazzpodium, DE

older reviews: 
"This Swiss harpist looks the times we live in straight in the eye. Her music dramatically expresses the anguish that stirs within us and the healing solutions to which she aspires." Telerama, FR
"She is one of the rare harpists who have made a place for themselves in the world of Jazz. Julie Campiche, composer and inspired instrumentalist, subtly intertwines electronic effects with acoustic sound to create somber yet luminous lyrical worlds." Canard Enchaîné, FR
"Onkalo represents an impressive musical statement from Campiche and her well balanced and highly talented quartet. (…) Campiche is a composer of vision and ambition and these pieces impress with the broadness of their scope and their effective use of colour, texture and dynamics." The Jazz Mann, UK
"More subtle, yet equally impressive, Swiss harpist Julie Campiche's UK debut revealed a unique voice both in her electronically processed instrument and the style of her playing." Jazzwise Magazine, concert review Cheltenham Jazz Festival, UK
"A singular voice, Camiche is carving out her own path and her development will merit watching." All About Jazz, concert review 12 Points Festival, UK
"Die Schweizerin Julie Campiche ist eine Meisterin an der Harfe." Süddeutsche Zeitung, DE

"Die Schweizer Harfenistin Julie Campiche spielt mit den Extremen, um ihre Wirkung zu erhöhen. Die vier Instrumentalisten formen ihre Werke wie Skulpturen, lehnen sich an den ECM-Sound an, ohne ihn zu kopieren, und interagieren dreist und mutig mit der Stille. Dabei stehen Freigeister wie Tom Waits, CocoRosie, Portishead, Keith Jarrett, Joe Henry und Arvo Pärt Pate. (...) Ein wunderbarer Prototyp für üppigen Minimalismus." Jazzthing, DE
"vermag einen erstaunlichen Sog und Groove zu entwickeln."Jazz'n'More, Konzertbericht Schaffhouser Jazz Festival, CH
"La tension est extrême, et le disque sur un fil. On en ressort secoué mais certain de ne jamais avoir quitté la lumière" Citizen Jazz, FR

"En live, c'est un envoûtement" Télérama, FR
---
PROMOMATERIAL [DOWNLOADS]