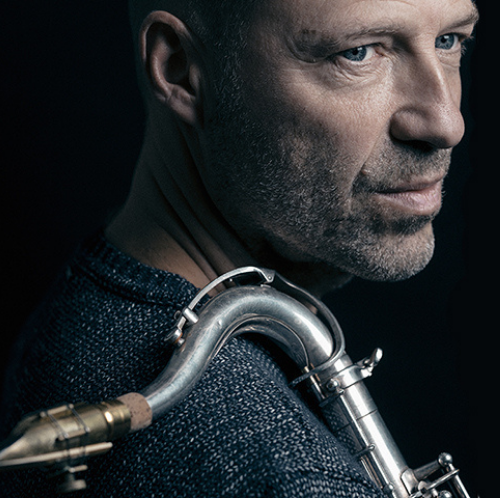 Manuel Hermia's Freetet proposes libertarian music, where order and chaos are constantly balanced, as in nature.
The compositions are clear, but the arrangements, rather than being written, draw directions, balances and role plays, so that each protagonist of the group can permanently appropriate his voice as he feels like.
And what protagonists: a horn section where Manuel Hermia, on saxophones, gathered around him Samuel Blaser on trombone and Jean-Paul Estévienart on the trumpet, all supported by the strong complicity of Manolo Cabras on bass and Joao Lobo on drums .
A modern quintet, which tends to sketch joy as much as depth, having fun in surprising us, while honoring this libertarian music that is jazz.
Manuel Hermia's Freetet präsentiert eine freigeistige Musik, in der Ordnung und Chaos - wie in der Natur - ständig im Gleichgewicht sind.
Die Kompositionen sind klar, aber die Arrangements sind nicht vorgeschrieben, sondern geben Richtungen, Balance und Raum für Experimente vor, so dass sich jeder Protagonist der Gruppe seine Stimme ständig so aneignen kann, wie er es möchte.
Und was für Protagonisten: eine Bläsersektion, in der Manuel Hermia am Saxophon Samuel Blaser an der Posaune und Jean-Paul Estévienart an der Trompete um sich schart, unterstützt von der starken Mitwirkung von Manolo Cabras am Bass und Joao Lobo am Schlagzeug.
Ein modernes Quintett, das dazu neigt, sowohl Spielfreude als auch Tiefe zu erzeugen, und das die Freiheit des Jazz ehrt während es uns fortwährend überrascht.
Manuel Hermia, saxophones
Samuel Blaser,  trombone
Jean-Paul Estévienart, trumpet
Manolo Cabras, bass
Joao Lobo, drums
AVAILABLE DATES 2022
21.02.23 BE-Namur - Jazz 9 asbl
12.05.23 LU-Dudelange - Like a Jazz Machine
"Für ein Klangabenteuer wie dieses gibt es ein passendes Wort: libertär." Jazzthing, DE

"Spannungsgeladene Melodiebögen gehen der Frage nach, was der Begriff 'Freiheit' nicht nur im Jazz bedeutet" Concerto, AT
"Es gibt keine Beliebigkeit, kein kollektives Powerplay in dieser Musik, die damit einer Pseudofreiheit, einer Pseudoindividualität entsprechen würde - alles ist wohlgeordnet durchs Arrangement, das alle möglichen Abstufungen zwischen Balance und Nichtbalance, zwischen Plan und Freiheit zulässt. Und genau das macht den Reiz dieser Musik aus." Jazzpodium, DE