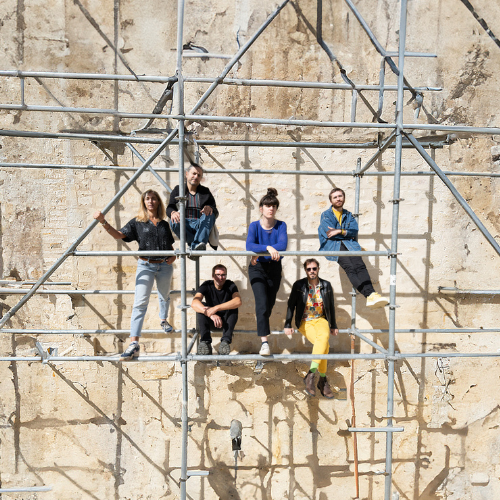 MILESDAVISQUINTETORCHESTRA!
The MILESDAVISQUINTETORCHESTRA! project focuses on two areas of research.
One musical, the other scientific.
Beyond its provocative name, which recalls the influence of marketing on our brains by distracting us from more important issues, the project aims to question our listening habits. Since 2012, Sylvain Darrifourcq, Xavier Camarasa and Valentin Ceccaldi have been engaged in sound research, which has taken shape in MILESDAVISQUINTET! A trio of prepared piano, cello and percussion that creates a mechanical, repetitive and immersive sound universe. Combining a desire to develop a singular way of improvising and the chance of researching together, they have developed a singular language at the crossroads of simple concepts: the repetition of the sound gesture, the mechanization of the repeated gesture, polyrhythmic repetition and temporal de-synchronization. Today, with MILESDAVISQUINTETORCHESTRA! the trio is extending its research to an ensemble of six improvising musicians in order to deepen their sonic investigations.
The project also proved to be an excellent pretext for scientific observation, with the group serving as guinea pigs for the D SYNCH research project conducted with Clément Canonne, CNRS researcher in cognitive psychology and member of IRCAM's "Analyse des Pratiques Musicales" team, and Thomas Wolf, researcher at Vienna's Central European University. The overall aim was to create "knowledge" from the group's artistic practice.
Science is too often seen by artists as a toy at their service. MILESDAVISQUINTETORCHESTRA! proposes to reverse the roles and become guinea pigs, hoping to produce data capable of increasing our knowledge of collective behavior.
AVAILABLE DATES
01.02.24 FR-Vitry/Seine - Sons d'Hiver Festival
10.03.24 AT-St. Johann - Artacts Festival