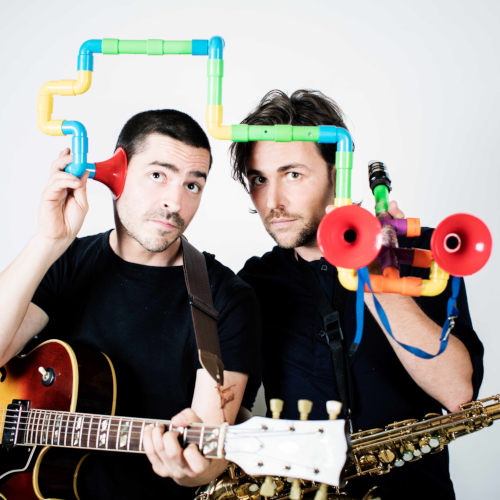 Deutsch weiter unten
A School & Family Concert
A musical journey with guitar, saxophone and Pepephon

Jazz musicians Christoph Pepe Auer and Manfred Temmel use guitars, clarinets, saxophones and their home-made Pepephon in a playful exploration of sounds, rhythms and melodies. In the process of their journey, the audience experiences sound-worlds ranging from joyful, fast-paced gypsy jazz through to celestially melodic songs; from intoxicating groovy rhythms to swinging waltzes.
They play their own compositions as well as arrangements and excerpts from Pop, Jazz and Classical Music with a focus on the first-hand joy of playing, a creative usage of the instruments, and on an interactive musical exchange with the audience.
Concert for school or families with kids from 4 years
Duration of performance: 30-45 minutes
Ein Schul- & Familienkonzert
Eine musikalische Reise mit Gitarre, Saxophon und Pepephon
Die Jazzmusiker Christoph Pepe Auer und Manfred Temmel forschen mit Gitarre, Klarinetten, Saxophonen und dem selbstgebauten Pepephon spielerisch nach Klängen, Rhythmen und Melodien. Dabei erlebt das Publikum Klangwelten von fröhlich rasantem Gipsy-Jazz bis sphärisch melodiösen Songs, von mitreißend groovigen Rhythmen bis swingenden Walzern.
Gespielt werden Eigenkompositionen der beiden Musiker sowie Arrangements und Zitate aus Jazz und Pop. Im Zentrum stehen die unmittelbare Spielfreude,
der kreative Umgang mit den Instrumenten, sowie ein musikalisch interaktiver Austausch mit dem Publikum.
Schul- bzw. Familienkonzert ab 4 Jahren
Aufführungsdauer: 30-45 Minuten
Christoph Pepe Auer, Pepephon, clarinets, saxophone
Manfred 'Speedy' Temmel, guitar
Lilian Genn, concept, dramaturgy*
Sigrid Reisenberger,directions*
*non travel group
Available Tourdates
05.09.2022 DE-Bonn - Beethovenfest, Post Tower Lounge Konzerte
18.09.2022 DE-St. Wendel - Jazzfestival
24.09.2022 AT-St. Johann/Pongau - kultur:treff
02.01.2023 AT-Erl - Festspielhaus
"'Pepe & Speedy' were a particularly interesting example as openers, if only because they deliberately dispensed with language. No 'child-friendly' educational explanations of the instruments, improvisation, or even the question 'What is Jazz?' The children should be able to make up their own minds when Pepe plays percussion with the keys of his bass clarinet or assembles his 'Pepephon', a funny twisted plastic flute, on which he also manages to make 'real music'. [A] concept that works in the best possible way." NMZ on their showcase concert at jazzahead!
"'Pepe & Speedy' waren als Opener ein ein besonders interessantes Beispiel, schon deswegen, weil sie bewusst auf Sprache verzichteten. Keine 'kindgerecht' pädagogischen Erläuterungen zu den Instrumenten, zu Improvisation oder gar der Frage 'Was ist Jazz?'. Die Kinder sollen sich ihren eigenen Reim darauf machen können, wenn Pepe mit den Klappen seiner Bassklarinette Percussion spielt oder sein 'Pepephon' zusammensetzt, eine witzig verwinkelte Plastiktröte, auf der er aber auch 'richtige Musik' zustande kriegt. [Ein] bestens funktionierendes Konzept." NMZ über ihr Showcase Konzert auf der jazzahead!
---
PROMOMATERIAL [DOWNLOADS]