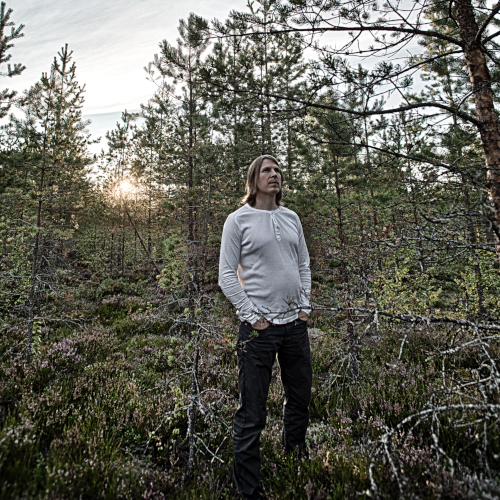 Deutsch weiter unten!
Ornaments Of Time
The focus for quite a few Jazz fans has shifted to Tuomas A. Turunen due to the defining role his playing assumes in the Emil Brandqvist Trio, currently one of Europe's most successful piano trio. For instance, the highly acclaimed group was able to celebrate a nomination for an ECHO JAZZ award with their albums "Seascapes"; "Falling Crystals" & "Entering The Woods" climbed to rank No. 3 on the German Jazz Charts. The pianist appeared on all three albums not only as soloist but as composer, too. Among his teachers during training in Gothenburg, Sweden was Anders Jormin, a renowned bass player and composer in his own right. In 2010 Turunen received the Special Jury Prize for the Piano Competition at the Montreux Jazz Festival.
Tuomas Antero Turunen's music touches listeners. At times garbed in almost classical attire as on "Preludi", other times in a jazzy garment of sounds while looking back on the fast & furious times of his musical development entitled "The Years". In addition to very idiosyncratic versions of Swedish and Finnish folk songs such as "Varvindar Friska" or "Tuonne Taakse Metsämaan", here he mainly presents his own compositions. With the track "Savotta" he even offers an intriguing variation of a piece readily recorded with the Emil Brandqvist Trio, paying tribute to the trio's success.
Alongside his activities with the trio, he will repeatedly be appearing at solo concerts in 2021. We can eagerly look forward to how far this 'romantic' in the realm of Jazz & Classical advances in developing the solo format for himself as a creative challenge.
Ornaments Of Time
Tuomas A. Turunen ist durch seine spielbestimmende Rolle im derzeit zu Europas erfolgreichsten Piano Trios zählenden Emil Brandqvist Trio in den Fokus vieler Jazzliebhaber gerückt. Das umjubelte Trio konnte beispielsweise mit dem Album "Seascapes" eine ECHO JAZZ Nominierung feiern, mit den Alben "Falling Crystals",  "Within A Dream" und "Entering The Woods" kamen sie bis auf Platz No.3 der deutschen Jazzcharts. Der finnische Pianist trat auf allen Alben nicht nur als Solist sondern auch als Komponist in Erscheinung. Zu seinen Lehrern während der Ausbildung in Göteborg gehörte u.a. der renommierte Anders Jormin. 2010 erhielt er beim Piano Wettbewerb des Montreux Jazz Festival den Spezialpreis der Jury.
Tuomas Antero Turunen macht Musik, die berührt, mal in fast klassischem Gewand wie in "Preludi", dann wieder in jazzigem Tonkleid, wenn er die rasanten Jahre seiner musikalischen Entwicklung in "The Years" Revue passieren lässt.  Neben den sehr eigenständigen Versionen von finnischen und schwedischen Volksliedern wie "Varvindar Friska" oder "Tuonne Taakse Metsämaan" sind es überwiegend eigene Kompositionen, die er präsentiert, mit dem Stück "Savotta" bietet er sogar eine interessante Variante eines bereits mit dem Emil Brandqvist Trio eingespielten Stückes an und zollt dem Erfolgstrio Tribut.
TOURDATES AND AVAILS
04.09.21 DE-Hameln - Doubletime Jazzclub
05.09.21 DE-Hameln - Doubletime Jazzclub
06.09.21 DE-Koblenz - Jazzclub
11.03.22 DE-Illingen - Illipse
17.11.22 DE-Kassel - Pianowoche
"(Tuomas A. Turunen) zieht uns mit zartem, Melodie-betontem, äußerst abwechslungsreichem Jazz zwischen Klassik und Nordic Sound in seinen Bann." Süddeutsche Zeitung
"Weich sind seine Melodien, und sie scheinen oft gar nicht zu enden...Muss alles laut und hektisch, dicht gepackt und nervös sein? Nein, wir brauchen auch das Schöne, Leise, Zarte, Sanfte." RONDO
"Man wird als Hörer buchstäblich hineingezogen in einen Sog aus komponierten Zentren und freien Zwischenspielen. Abwechslungsreicher und kurzweiliger kann ein Klavier-Solo-Album kaum sein." PianoNews
"Searching spaces between classical musc and jazz has been one of the big trends of the past decades, and the folkloric tradition has always been interpreted and exploited in the history of music. However, Turunen succeeds in his own big fusion in an exceptionally wonderful way; Ornaments of Time is master's work." 5/5 stars suomijazz.com
"With a harmonic sensibility, he enriches little by little his subject and dresses it with variations, with wider ranges. His compositions explore vaste horizons in a sonic world where the music breathes; he opens up dreaming as well as vivacious ambiences" Vumètre (FR)

---
PROMOMATERIAL [DOWNLOADS]