Tinka Steinhoff Booking

Julie Campiche Quartet (CH)

"a master of the harp."

Süddeutsche Zeitung, DE // "Live, it's a spell"

Télérama, FR // "her development will merit watching." All About Jazz // "A wonderful prototype for opulent minimalism." Jazzthing, DE // "The tension is extreme, and the record is on the edge. One comes out shaken but certain to have never left the light" Citizen Jazz, FR // "an amazing pull and groove." Jazz'n'More, CH // "a composer of vision and ambition and these pieces impress with the broadness of their scope and their effective use of colour, texture and dynamics." The Jazz Mann, UK // "somber yet luminous lyrical worlds." Canard Enchaîné, FR

Dear subscribers,

News from Julie Campiche!


- We have edited a new video of the terrific streaming concert from the Unterfahrt in May, see below and here!


- The concert also made it to the living room of Ian Mann aka The Jazz Man in London, who wrote a review that was quite something: You can read the full article here. Excerpt: "Aside from the brilliant writing and playing the quality of the sound and visuals was also exceptional. After over a year of watching livestream events tonight's was probably the best so far."


- The Musée Jenisch Vevey, in collaboration with the Montreux Jazz Artists Foundation, has put together an exhibition that also features music by Julie. You can get an impression here.


- Also very exciting: The Jazz Festival Cully has asked Julie, together with eight other Swiss artists, to compose something for a musical walk through the city. Information about this great idea of a Balade Musicale can be found here. If you're in the neighbourhood: Julie will be guiding you through the tour on 24 June!


- A new programme will be premiered at the Jazz Contre Band Festival this October and will be released next autumn. Tour dates can be seen below, join in where you can ;)


Julie is a great woman who knows no boundaries. I am very happy that we are sharing this adventure!


VIDEO FROM THE UNTERFAHRT 'LEPIDOPTERA':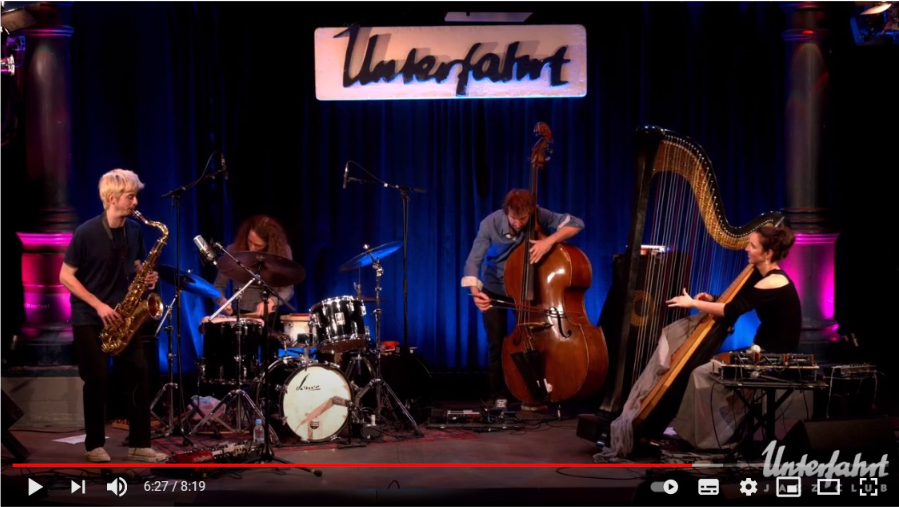 VIDEO 'CRADLE SONGS':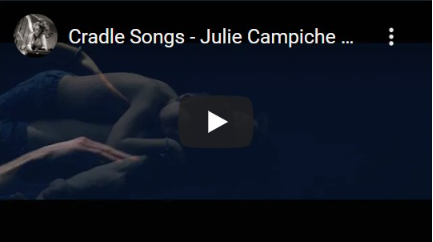 Line-Up
Leo Fumagalli, saxophone & FX;
Julie Campiche, harp & FX;
Manu Hagmann, double bass & FX;
Clemens Kuratle, drums
Tourdates
30.07.21 FR-Beaujolais - Festival Beaujolais en Scène
04.09.21 CH-Nyon - Jazz au Peuple, tbc


17.09.21 CH-Vernier - Salle du Lignon, feat. trapezist Vanessa Pahud


01.10.21 CH-Geneva - Alhambra - Jazz Contreband Festival
09.10.21 FR-Evian - La Grange au Lac - Jazz Contreband Festival


15.10.21 FR-Annecy - Le Brise Glace - Jazz Contreband Festival




29.10.21 CH-Sierre - Jazz Station - Jazz Contreband Festival


06.11.21 CH-Yverdon - Théâtre de l'Echandole - Jazz Contreband Festival
02.12.21 CH-Aarau - Jazzclub Aarau
12.03.22 CH-Luzern -

KKL Auditorium - pourcent culturel Migros


13.03.22 CH-Bern -

Yehudi Menuhin Forum - pourcent culturel Migros


14.03.22 CH-Zurich -

Helferei - pourcent culturel Migros


15.03.22 CH-Geneva -

Les Salons - pourcent culturel Migros




19.04.22 PL-Katowice - JazzArt Festival/NOSPR