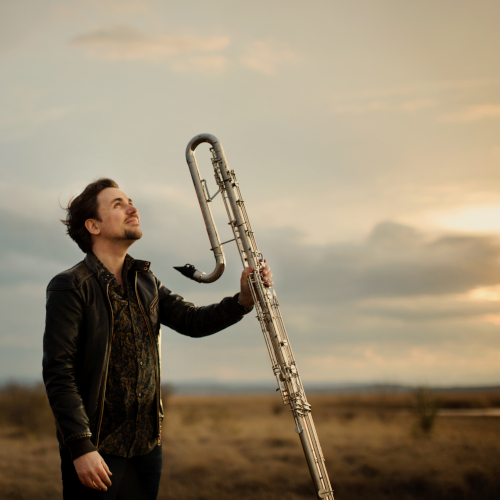 Deutsch weiter unten
White Noise
Sound cosmos between jazz, pop and electronic music

Christoph Pepe Auer is considered one of the most interesting Austrian Jazz musicians. However, the clarinetist, who's been a member of Jazz Big Band Graz and the Vienna Art Orchestra and continues to play in duo with Manu Delago, (among others), can hardly be titled with " Jazz" alone. For at least 15 years he has been on a journey that leads him to ever new sounds and sound combinations. In doing so, he cleverly wanders between jazz, pop and electronic music, uses whatever comes his way, finds, invents and tries out. This can be a marble game, which he has developed and perfected into a "Pepephon" in years of tinkering. Musical instruments for children that come to new, unexpected glory on stage. Programmed Sounds. Auer's latest instrument is a contrabass clarinet, which, in addition to his range of woodwind instruments, provides a warm, archaic, deep color on stage, reminiscent of Film Noir scenes from the fifties.
White Noise
Klangkosmos zwischen Jazz, Pop und elektronischer Musik
Christoph Pepe Auer gilt als einer der interessantesten österreichischen Jazzmusiker. Der Klarinettist, der unter anderem in der Jazz Big Band Graz, dem Vienna Art Orchestra oder im Duo mit Manu Delago spielt oder gespielt hat, lässt sich allerdings kaum allein mit dem Schlagwort "Jazz" titulieren. Er befindet sich seit mindestens 15 Jahren auf einer Reise, die ihn zu immer neuen Sounds und Klangkombinationen führt. Dabei wandelt er geschickt zwischen Jazz, Pop und elektronischer Musik, nutzt, was ihm über den Weg läuft, findet, erfindet und probiert aus. Das kann ein Murmelspiel sein, das er in jahrelanger Tüftelei zu einem "Pepephon" ausgebaut und perfektioniert hat. Musikinstrumente für Kinder, die auf der Bühne zu neuer, unerwarteter Ehre kommen. Programmierte Sounds. Auers neuestes Instrument ist eine Kontrabassklarinette, die neben seinem Spektrum an Holzblasinstrumenten für eine warme, archaische, tiefe Farbe auf der Bühne sorgt und an Film Noir Szenen aus den 50ern erinnert.
Christoph Pepe Auer, clarinets, saxes, electronics
Clemens Sainitzer, cello
Mike Tiefenbacher, piano
Christian Grobauer, drums
TOURDATES AND AVAILS
16.02.23 DE-Kassel - Theaterstübchen
17.02.23 DE-Bielefeld - Bunker Ulmenwall, tbc
18.02.23 DE-Hameln - Doubletime Jazzclub
24.02.23 DE-Köln - King Georg
25.02.23 DE-St. Wendel - Wendlandjazz
18.05.23 IT-Brixen - Dekadenz
07.09.23 AT-St. Johann - Herbstfestival

Interested in a multi-awarded family- and school concert? 
"Beruhigt und aktiviert den Geist [...] das Erstaunliche an Auers Musik ist die zugänglich warme, fast schon poppige Atmosphäre, die sie auszeichnet." Jazzthing, DE
"'White Noise' bietet interessante und kurzweilige Soundtrips im Kreuzungsgebiet von Jazz-Improvisationen, Elektronik und Drone Music." Jazzthetik, DE
"ungewöhnliche und sehr kreative Klänge" LP, DE
"Mit Cello, Synthesizer, Klavier und Drums kreiert der passionierte Ausprobierer absolut Außergewöhnliches" Kurier, AT
"In seinem neuen Opus 'White Noise' präsentiert Christoph Pepe Auer sorgfältig konstruierte Soundscapes und Miniaturen, die einmal mehr vom subtilen Zusammenspiel elektronischer und akustischer Klangerzeuger leben." Concerto, AT
"[...] eine Scheibe, die einen vom ersten Akkord an in ihren Bann zieht." InMusic, DE
"'White Noise' glänzt voller innovativer elektro-akustischer Ästhetik, klanglichen Variationen und einem präzisen Geflecht aus rhythmischen patterns und Grroves [...] Top!" Top Magazin Ruhr, DE
"[...] kalt lässt die Musik des Österreichers niemanden, der sich darauf einlässt." DEWEZET, DE
---
PROMOMATERIAL [DOWNLOADS]