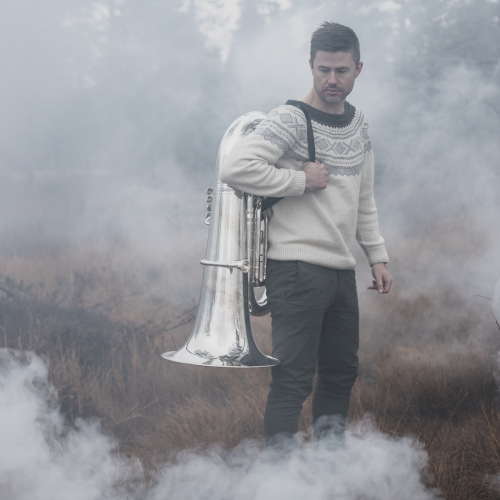 Introduction
Daniel Herskedal is the enigmatic master of sound and sonorous beauty. His music ebbs and flows with utter grace and poise, perfectly fusing the spirit of jazz with the compositional craft of classical music. Seldom do you hear a musician with such depth, emotive intensity and virtuosity shine who is simultaneously pushing the boundaries of his instrument to the limit.
Possessed with real melodic resonance, Daniel Herskedal is a hugely gifted and dynamic composer. His music breathes and is full of life. While his last 3 albums have earned him huge praise and adoring fans, this new music expands on the direction and takes influence from 'Mistral Noir', the opening track from his album 'Slow Eastbound Train', performed entirely solo, layering both tuba and bass trumpet in a both a mesmerising and sublimely beautiful way.
The influence of multiple genres is evident in the songs but it's the space, the capture, the quality of sound and the true brilliance of its simplicity that impresses most. Combine that with what kind of sounds he can make out of a tuba and it blows your mind.
Daniel Herskedal, tuba, bass trumpet
TERRITORIES
World
Booking in Italy by Bianca Amaducci info@tourbilion.com
09.07.23 RO-Gărâna - Jazz Festival / Trio
12.07.23 DE-Dresden - Unkersdorfer Kirche / Solo
13.07.23 CZ-Prague - Novoměstská radnice / Solo
14.07.23 CZ-Polička - Colourmeeting / Solo
29.07.23 LV-Riga - Festival Porta / Solo
20.10.23 NO-Brandbu - Hadeland Jazzforum / Trio
21.10.23 NO-Oslo - Victoria / Trio
22.10.23 NO-Ålesund - Spjelkavik kyrkje / Trio
02.11.23 NL-Amsterdam - Bimhuis / Trio
04.11.23 NL-Tilburg - Paradox / Trio
03.12.23 EST-Tallinn - Jazzkaar Christmas Jazz, Niguliste Church / Solo
17.02.24 BE-Turnhout - Warande / Solo
20.02.24 BE-Leuven - 30cc / Solo
21.02.24 BE-Roeselare - De Spil / Solo
22.02.24 BE-Bornem - Ter Dilft / Solo
23.02.24 BE-Brussels - Bozar / Solo
24.02.24 BE-Sint Niklaas - Cultuurcentrum / Solo
25.02.24 BE-Brugge - Cultuurcentrum / Solo
15.04.24 DE-Munich - Bergson / Solo
16.04.24 CH-Zürich - Kulturmarkt / Solo
17.04.24 LI-Schaan - TAK / Solo
23.04.24 PL-Katowice - NOSPR / Solo
«The full pack of the melancholy of the tuba - on less than 39 minutes. A strong warming-up, even in times of cold social distancing.» Die ZEIT, DE
«Call For Winter is a unique album in every way. Music with a great emotional power - if you still need it during this time of corona - to get completely out of the world.» Jazzenzo, NL
«Unbelievable how rich his music can sound. [...] Norwegian tuba player Daniel Herskedal once again makes clear what a wonderfully interesting musician and composer he is.» 4/5 stars, Written in Music, NL
"Magical, flowing, blending into the soul" Rose No Guns, PL
"With "Call for Winter" Daniel Herskedal proves to be an excellent tuba and bass trumpet player, composer and songwriter. May this album make him  be invited to "ad hoc" projects on festivals and other opportunities with the ability to line-up larger ensembles and concert productions. Not only in Norway but worldwide." Salt Peanuts, NO
"What wonderfully sublime music from Daniel Herskedal" BBC Radio 3, UK
"There was never any doubt about Herskedal's mastership as an instrumentalist. He is and has his own voice, but here on  a greater extent than ever before, he has created very personal music that will stay forever. Brilliant and thanks for the invitation!" Nettavisen, NO
"With these two instruments, Daniel Herskedal has succeeded in creating a completely unique music that is both magnificent and powerful." 6/6 stars, Audiophile.no, NO
"a fantastic album, not only for brass fans" 5/5 stars,  HighResMac, DE
"A concentrated form can easily be discolored by monotony. That does not happen here. Our man manages to attract the interest for a whole album, and that says a lot about his musicality." Jazz i Norge, NO
"A very sensuous album" SRF Kultur, CH

"A "tour de force" that will appeal to a wider audience as well as more sophisticated listeners." Jazzhalo, BE

"Call for Winter' is a very special solo album" 5/5 stars, Jazz'n'More, CH
Daniel Herskedal is also a world-renowned composer for films and short films. His sounds appeared in a world wide Coca Cola Company campaign in 2020, which resulted in a very positive feedback: "It's never easy to find music that matches the vision of a creative team, a director and Client. The music Daniel provided to our Client (The Coca-Cola Company) was a perfect fit. Daniels professionalism and dedication to making sure the global TVC worked made it easy to collaborate with Daniel. Daniel is now one of our preferred music composers and look forward to working with him again on many more projects." Leon Hamilton - COO of the SMC Group.

---
PROMOMATERIAL [DOWNLOADS]