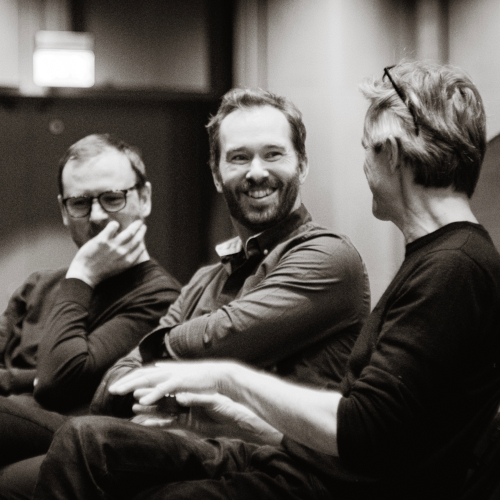 Deutsch weiter unten!
BEING
A new trio featuring three generations of Norwegian jazz musicians led by pianist and composer Eyolf Dale, with legendary drummer Audun Kleive and bass player Per Zanussi. Their first album as a trio, «Being», walks in the footsteps of Dale's acclaimed albums «Wolf Valley» and «Return to Mind», but it also defines its own path. As Dale puts it, «Being is about being in the moment, about living and about being present. It's the first time I've experienced this kind of presence in a piano trio. Audun and Per has a respect for my compositions, yet they combine it with an inner urge to create. We all have to be on our toes!"
Dale has released a number of albums to critical acclaim, and toured the world with different projects the last 10 years. As a composer he has written for his Wolf Valley octet, big bands, orchestras, the Albatrosh duo, and a lot of different ensembles. A notable sideman act to the German audience, is his contribution in tubist Daniel Herskedal's group. Drummer Audun Kleive has a production of nearly 200 albums since the early 80's, many of them on ECM Records. Notable references is Terje Rypdal, Jon Balke, Charles Lloyd and Marilyn Mazur. Zanussi is a much sought after bass player known from his own bands as well as numerous collaborations with European musicians.
The spirit of their music is truly collaborative, yet with a clear intention from Dale's strong and melodic compositions. On stage they're a vital trio that puts everything in to the moment.
BEING
Der in Oslo lebende Pianist Eyolf Dale hat als Musiker so einige Meilensteine hinter sich: zweimal war er bereits für Soloalben für den Norwegischen Grammy auf der Shortlist. Als Leader und Sideman spielte er tausende Konzerte auf der ganzen Welt. Stuart Nicholson sagte über ihn in Jazzwise (GB): "Dale's Debut als ein Leader bei einem großen europäischen Jazz Label ist auf mehreren Ebenen beeindruckend - in Konzeption, Ausführung und aus kompositorischer Sicht schafft er es, aus allem das beste zu holen."  Und Fred Gran befand in Jazz Journal (GB): "es wird immer offensichtlicher, dass Dale zu den Allerbesten gehört."
Musikalisch steht der Komponist in der Tradition des skandinavischen Jazz: ein Geschichtenerzähler, aufregend und fesselnd, manchmal mystisch, manchmal romantisch. Er komponierte unter anderem für seine eigenen Projekte wie zum Beispiel das Oktett Wolf Valley, sein Duo mit André Roligheten, seine Soloalben - aber auch für Orchester und Big Bands. Um bei der Metapher zu bleiben: Das Leben spielt mal klein, mal groß. Nun also ein Piano Trio, passenderweise bestehend aus drei Generationen norwegischer Jazzmusiker. Schlagzeuger-Legende Audun Kleive und Bassist Per Zanussi begleiten Dale auf dem Wegstück, das passenderweise "BEING" heißt.  Das Album erscheint am 19. Februar 2021 bei Edition Records.
Eyolf Dale, piano / Per Zanussi, bass/ Audun Kleive, drums
TOURDATES AND AVAILS
31.10.22 DE-Kassel - Theaterstübchen
01.11.22 DE-Koblenz - Café Hahn
03.11.22 DE-Frankfurt - Alte Seilerei
04.11.22 DE-Lüdinghausen - Burg Vischering
17.11.22 NO-Gjovik - Jazzclub
12.12.22 CZ-Prague - Rudolfinum, Suk Hall
11.02.23 DE-Gelsenkirchen - Schloss Horst
09.03.23 NO-Oslo - Victoria
12.05.23 NO-Stavanger - Maijazz
27.05.23 NO-Bergen - Nattjazz Festival
For BEING:
"Until now he was known (...) mainly as the leader of the wonderful octet Wolf Valley, with which he creates a very colorful music, in which dramaturgy plays a special role. With "Being" Dale has now very successfully transferred this approach to trio playing. (Audun Kleive & Per Zanussi's) nuanced playing (...) contributes a lot to the richness of color of this record." Deutschlandfunk, DE
"BEING by Eyolf Dale has become a very emotional album. Often lyrical, always multi-layered and of enormous depth." hr2 Kultur radio, Jazz Now, DE
"The compositions are masterpieces of the trio art." SWR2, DE
"A subtle groove and intense lyricism that have already earned him more than 6 million connections on Spotify for his previous albums. A hypnotic beauty." France Musique, Open Jazz, FR
"This winter's big jazz album (...) Beautiful and imaginative from the piano trio by Eyolf Dale." Dagens Næringsliv (DN) Magasinet, NO
"Artistically sophisticated, but at the same time down to earth. In times of Corona, live music has become quiet. But with Being on the headphones, it's almost like "being there". LIRA Musikmagasin, SE
"A future piano classic" JazzThing, DE
"With its classic structure and playing freedom, Being has become a timeless jazz album that puts Dale more than ever on the global jazz map." Written In Music, NL
"Luxurious  [...] Huge [...] Beautiful [...] Demonstration of Power" Jazznytt, NO
"There will probably not be a more intelligent, more subtle trio record this year."Kulturnews, DE
Other reviews:
"Dale's debut as a leader on an important European jazz label is impressive at several levels – in conception, in execution and from a compositional perspective he succeeds in ticking all boxes." Stuart Nicholson , Jazzwise, UK 
"... it's becoming increasingly apparent that Dale is amongst the very best." Fred Grand, Jazz Journal, FR
"Jedes Stück ein kleines Drama, an dessen Ende man woanders steht als am Anfang" Deutschlandfunk Kultur, DE
---
PROMOMATERIAL [DOWNLOADS]