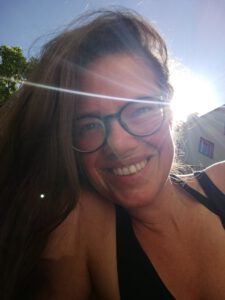 Deutsch weiter unten!
I never learned to play an instrument, never even sang in the school choir, my approach to music was actually always rather superficial.
In my early twenties, when I fell in love with a musician during the open stage in the only jazz club in my university town, everything suddenly changed. We listened to music for hours, I paid attention to instruments and harmonies for the first time ever, we nerded details and backgrounds, spent all our money on CDs and concerts. I had never consciously perceived jazz before, but then I heard about Esbjörn Svensson Trio and Jacky Terrasson, my gateway drugs into jazz. My first jazz concert: Brad Mehldau, where a world opened up to me to which I had had no access so far. A key moment: I became an event manager.
The relationship to the musician ended eventually - the one to Jazz music didn't. Over the years, I realized that I do have a musical talent after all: the perception of the extraordinary. Since 2010 I have been working as a booking agent and not only jazz music, but also the industry has grown dear to my heart. I am happy to be a part of it and I am immensely proud of the trust that my artists and many promoters put in me.
Das bin ich

Ich habe nie ein Instrument gelernt, nie im Schulchor gesungen, mein Zugang zur Musik war früher ziemlich oberflächlich.
Als ich mich in meinen frühen Zwanzigern im einzigen Jazzclub meiner Unistadt in einen Musiker verliebte wurde es schlagartig anders. Wir hörten stundenlang Musik, diskutierten über Instrumentierungen und Hintergründe, gaben all unser Geld für CDs und Konzerte aus. Nie zuvor  hatte ich den Jazz bewusst wahrgenommen. Und dann lernte ich das Esbjörn Svensson Trio und Jacky Terrasson kennen, meine Einstiegsdrogen in die Welt der Pianotrios. Mein erstes Jazzkonzert:  Brad Mehldau in Ludwigshafen. Bei ihm ging mir eine neue Welt auf, ein Schlüsselmoment.
Kurzerhand brach ich die Uni ab und wurde Veranstaltungskauffrau.
Die Liebesbeziehung zu besagtem Musiker hat mittlerweile das Zeitliche gesegnet, die zum Jazz ist geblieben. Über die Jahre habe ich gemerkt, dass ich musikalisch doch nicht so untalentiert bin. Das Entdecken von Außergewöhnlichem ist meine Stärke. Seit 2010 bin ich in der Künstlervermittlung tätig und nicht nur die Musik, sondern auch die Jazzszene ist mir ans Herz gewachsen. Ich bin glücklich, ein Teil davon zu sein und ich bin immens stolz auf das Vertrauen, das sowohl Künstler*innen als auch Veranstalter*innen in mich setzen.