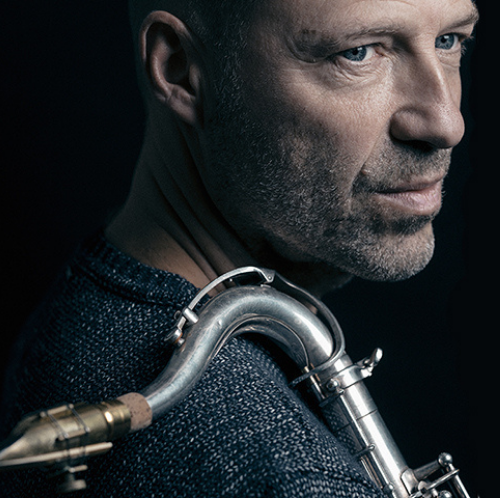 As a composer, jazz improviser and explorer of world music, Manuel Hermia's approach to music is first and foremost a global one. His approach is expressed through several axes: multiculturality, diversity of musical styles, multidisciplinary approach and social commitment.
Through his many travels and encounters, he has tried to gradually integrate into his language all the cultural elements that his career has brought him. From Latin America to African cultures, from Indian ragas to Arabic maqâms -, from alternative rock to contemporary classical music, all those influences were integrated into his field of exploration.
Over the years, he has also developed his own melodic-harmonic system with a theory he calls "rajazz", bridging the gap between tonal thinking and a modal approach to music. This contemporary system is potentially usable in any stylistic framework.
In 2023, with his Rajazz theory, he received funds from the FNRS for an amazing research project rubbing shoulders with mathematics, opening up new horizons for exploration.
Very active in the world of jazz, he leads an international career that has taken him to play on every continent with the Darrifourcq/Hermia/Ceccaldi trio, the Orchestra Nazionale della Luna, the Manuel Hermia trio, the Freetet, and lately Tassin/Hermia/Joris.
As an instrumentalist, he expresses himself as much as a saxophonist as trough his love of bansuri - the North Indian flute. Thanks to this double instrumental potential, he has also been involved in a series of hybrid projects between jazz and world music: Majid Bekkas Afro Oriental trio (Morocco), The Whisper from Orient (India, China, Pakistan), Mamady Keita and Sewakan (Guinea), Bahdja (Algeria), Slang … More recently, his brand new duo Metanoia opens an interesting field of global music bringing us beyond the questions of cultural appropriation.
For him, art is a way of looking at the world, and therefore a commitment. His projects are often - but not always - in the wake of a commitment. Sometimes philosophical and spiritual, like his double album "Le Murmure de l'Orient". Sometimes political, like the CD "Austerity... and what about Rage", or ecological, like "There is still Live on earth" by Orchestra Nazionale della Luna.  Sometimes between philosophy and politics, like "Freetet" ,
But the desire to develop an aesthetic that also makes sense in our today's world is always present.
AVAILABLE DATES
06.02.23 AT-Vienna - Porgy & Bess
07.02.23 SI-Maribor - Narodni dom
12.02.23 UK-Newcastle
"The ambassador of Belgian Jazz" Kulturnews, DE

"Manuel Hermia is an artist who doesn't just play notes. His jazz is questioning, philosophical and political." Le Soir, BE
"Manuel Hermia is the textbook example of the cosmopolitan musician who is always exploring new horizons and forging bonds of friendship." Jazz halo, BE
"Hermia almost scores full marks for being that rarest of creatures – an improvising wind player who knows when to pipe down" Songlines, UK