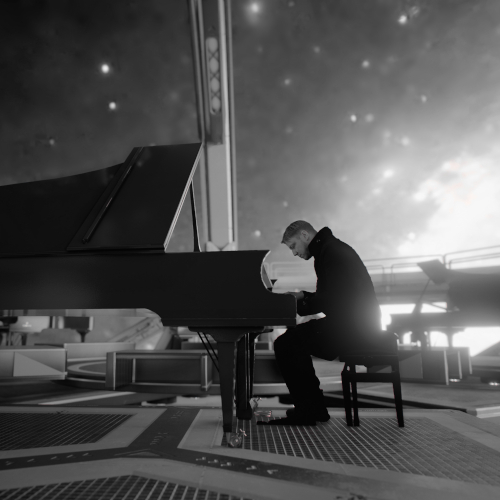 Deutsch weiter unten!
THE ROCKET
A musician who moves equally among categories such as film scoring, classical, jazz or pop, on this album Martin Tingvall plays seemingly simple sounding, grippingly beautiful melodies that at times conjure up associations with classical figures, other times reflect his origins stemming from Scandinavian folk music, and in the next moment gravitate closely to the veritable improvisational freedom we call jazz. He has long since left the commonplace "shoeboxing" of genres behind him to create his very own Tingvall world of sound comprised of different sources of inspiration.
THE ROCKET
Martin Tingvall, der sich in Genres wie Filmmusik, Klassik, Jazz oder Pop gleichermaßen bewegt, spielt auf diesem Album scheinbar einfach klingende, ergreifend schöne Melodien, die mal Assoziationen von Klassik herbeizaubern, mal seine Herkunft aus der skandinavische Volksmusik spiegeln und im nächsten Moment der Improvisationsfreiheit des Jazz nahestehen. Längst hat er gängige Genregrenzen hinter sich gelassen und seine ganz eigenen Tingvall – Klangwelt aus unterschiedlichen Inspirationsquellen geschaffen.
TERRITORIES
GERMANY / AUSTRIA / SWITZERLAND
"Innig, verhalten, ergreifend schön." Die ZEIT, DE
"Ausnahmepianist" Süddeutsche Zeitung, DE
"Höchste Klavierkunst" Die Welt, DE
"voller wunderbar gelassener, meditativer Klänge, angesiedelt irgendwo zwischen Jazz und Klassik" STERN, DE
"[…] jedes dieser wunderschönen kleinen Stücke auf "Distance" hat seinen eigenen Charakter. Und wie Martin Tingvall das hinbekommt ist schon sehr beeindruckend."Deutschlandradio Kultur, DE
"[Martin Tingvall] hat hier wirklich einen eigenen Klangkosmos geschaffen: Musik mit Bach'scher Eleganz und Klarheit, gepaart mit Chopinesker Lebensfreude und Jarretts "Köln Konzert"-Sound. Eine Wohltat für die Ohren und Seele!" Concerto, AT
"diese Rakete schwebt mit traumwandlerisch schönen Melodien durch seinen Kosmos. Musik zum Innehalten."GALA, DE
"Die Stücke – allesamt Eigenkompositionen – könnten genauso als Filmmusikschnipsel dienen – jeder Song erzählt eine kleine Geschichte und durch zurückgenommenes, sparsames Spiel erhält die Musik genug Luft zum Atmen." Jazz'n'More, CH


---
PROMOMATERIAL [DOWNLOADS]