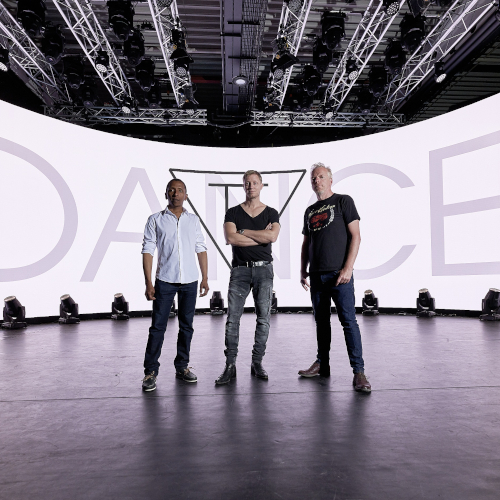 Deutsch weiter unten!
DANCE
With the Tingvall Trio, there's no longer any need for introductions. When it comes to the handful of jazz artists from Germany who have successfully made a breakthrough, both nationally and internationally, who have been awarded 3 ECHO JAZZ AWARDS and whose studio releases have all gone GOLD, any latest release is going to be eagerly awaited.
"Dance" is the title of this new album and the trio takes listeners along on a journey around the world, letting the widest variety of dance styles flash and flare as a vivid form of emotional expression.
DANCE
Das Tingvall Trio braucht keine Vorstellung mehr. Wer zu der Handvoll von Jazz Künstlern aus Deutschland gehört, die auch international den Durchbruch geschafft haben, wer neben drei ECHO JAZZ AWARDS auch mit allen Studioveröffentlichungen GOLD Status erreicht hat, dessen neue Veröffentlichung wird mit Spannung erwartet.
"Dance" ist der Titel des neuen Werks und das Trio nimmt die Hörer mit auf eine Reise um die Welt, lässt unterschiedlichste Formen des Tanzes als Gefühlsausdruck aufblitzen.
Martin Tingvall - piano / Omar Rodriguez Calvo - bass / Jürgen Spiegel - drums
TERRITORIES
WORLD apart from Italy
AVAILABLE TOURDATES
TRIO:
30.03.23 AT-Innsbruck - Treibhaus
21.04.23 DE-Hamm - Kurhaus
22.04.23 DE-Illingen - Illipse
12.05.23 DE-Tübingen - Sudhaus
13.05.23 DE-Weikersheim - Tauberphilharmonie
14.05.23 DE-Wittlich - Jazzclub
10.06.23 DE-Hamburg - Elbjazz
22.06.23 DE-Timmendorfer Strand - Jazz Baltica
15.07.23 CH-St. Moritz - Jazzfestival
19.09.23 DE-Freiburg - Jazzfestival
20.09.23 DE-Darmstadt - Centralstation
23.09.23 DE-Oldenburg - Kulturetage
27.09.23 DE-Hannover - Pavillon
25.10.23 DE-Langenau - Pfleghof
26.10.23 DE-Kaiserslautern - Kammgarn
27.10.23 NL-Tilburg - Paradox
10.11.23 DE-Dresden - Jazzfestival
11.11.23 DE-Leverkusen - Jazzfestival
12.11.23 DE-Karlsruhe - Tollhaus
16.11.23 DE-Nürnberg - Tafelhalle
17.11.23 DE-Saarburg - Stadthalle
18.11.23 DE-Schwäbisch Hall - Globe Theater*
03.12.23 DE-Kassel - Oper
04.05.24 DE-Bochum - Christuskirche*
08.05.24 DE-Puchheim - PUC
MARTIN TINGVALL SOLO: 
04.05.23 DE-Mannheim - Ella & Louis
05.05.23 DE-Offenburg - Hotel Ritter Durbach
06.05.23 CH-Alschwill - Piano di Primo
07.05.23 DE-Koblenz - Kleiner Saal der Rheinischen Philharmonie
*Verschiebungstermine - wird noch über o-tone abgewickelt
**Booking Vier Pianisten: Neuland Concerts
"Internationale Jazz-Power aus Hamburg" Titel Thesen Temperamente, DE
"Popstars des Jazz" ​3Sat, DE
"Eine der erfolgreichsten Bands der deutschen Szene ist das Trio des schwedischen Pianisten Martin Tingvall." ARD Radiofestival, DE
"Das Tingvall Trio ist Kult." B5 Kultur, DE
​"Elegisch schön." Concerto, AT
"[Martin Tingvalls Trio] zwingt uns wohin? Genau: auf die Knie!" DIE WELT, DE
"Diese Nuancen sind es, die aus einem ungewöhnlichen Trio ein erfolgreiches machen." Neue Züricher Zeitung, CH
---
PROMOMATERIAL [DOWNLOADS]