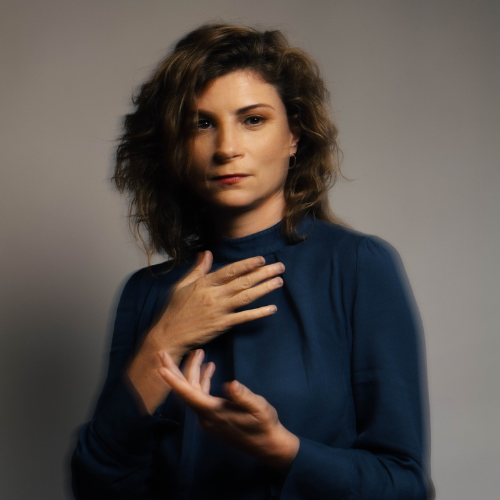 INTRODUCTION
Tania Giannouli's genre-defying music is highly original, lyrical, complex, eclectic and intoxicating.  Classically trained and inspired by many traditions and influences, her compositions and interdisciplinary projects span an impressive range of styles, creating a borderless amalgamation of our global reality.
A renowned pianist, composer, improviser and bandleader, she has performed at venues and festivals across Europe and her explorative collaborations have been released on New Zealand's foremost art-music label, Rattel Records: Solo (2023, a passionate and epic solo album recorded in Athens at Dimitris Mitropoulos Hall), In Fading Light (2020, a trio with trumpet player Andreas Polyzogopoulos and oud player Kyriakos Tapakis), Rewa (2018, improvised collaboration with traditional Maori instrumentalist, Rob Thorne), Transcendence (2015, featuring works composed for the Tania Giannouli Ensemble), and Forest Stories (2012, with Portuguese wind player, Paulo Chagas).  Her albums receive widespread international acclaim, with Transcendence cited as one of the most important albums of the decade in her Greek homeland.
In 2021 Tania was nominated for the Deutscher Jazzpreis (German Jazz Prize) alongside international pianists Tigran Hamasyan and Shai Maestro, and she is currently performing solo, with her trio, collaborating on with HEMERA with Michele Rabbia (percussion) and Daniele Roccato (double bass), and was one one of two artists-in-residence at Enjoy Jazz Festival in 2022, where she premiered new works and collaborations - an article about this has been published on the influential website All About Jazz.
New CD – SOLO – will be out on Rattle Records on 8 June 2023.
Avails:
Solo Piano
Trio - with Andreas Polyzogopoulos (trumpet) and Kyriakos Tapakis (oud)
Trio HEMERA – with Michele Rabbia (percussion) and Daniele Roccato (double bass)
TERRITORIES
TSB exclusively: Central Europe
Enquiries from the Nordic States: Minna Huuskonen, minna@minnamurra.fi
Enquiries from Italy: Nicola Adriani, namusicagency@gmail.com
All other enquiries: Martel Ollerenshaw, martel@artsandparts.co.uk
TOURDATES AND AVAILS
01.10.23 DE-Berlin - Pierre Boulez Saal / Amir ElSaffar Trio feat. Tania Giannouli
20.10.23 DE-Ludwigshafen - Enjoy Jazz Festival / with Nik Bärtsch
06.11.23 BE-Brussels - Big Bang Festival, Bozar / Solo
23. & 24.11.23 DE-Hamburg - NDR concert series / Trio Hermera
Quotes:
"Giannouli is a unique voice, as a composer, pianist and improviser. She has many more musical stories that are waiting to be told."  All About Jazz/USA
"Giannouli is here to shake up jazz once again. She is not only a fascinatingly good pianist but also has a fascinatingly good sense of special music. She will make her mark on music (and certainly not only within jazz) emphatically in the years to come." Written In Music/NL
"Tania Giannouli confirms that she is a leading musician, able today to share, in their most direct expression, the outbursts of a strong beating heart." Citizen Jazz/FR
"Tania Giannouli makes jazz of the kind where improvisation is just the starting point and somewhere out there -- or something deep inside -- is the aim." Elsewhere/NZ
---
PROMOMATERIAL [DOWNLOADS]