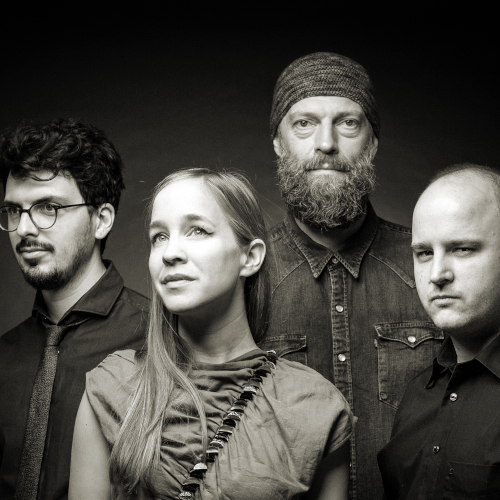 VERONIKA HARCSA & BÁLINT GYÉMÁNT QUARTET (HUN/BE)
Deutsch weiter unten!
Shapeshifter
NowJazz Storytellers with an Ethereal Voice.
Storytelling is both a tool to share what's on one's mind, as well as an opportunity for the listener to find their own stories within the ones being told. This is exactly what happens on this new album by Hungary's renowned voice guitar duo, and the top notch Belgian rhythm section. Contemporary jazz dynamics combined with the heritage of Eastern-European rhythmical sense, haunting melodies and magnetic grooves are brought to life through Veronika's mesmerizing voice and the three instrumentalists virtuosic playing. In the songs the group shares heartfelt stories with the audience about being young and Pan-European today, trying to find where peace and joy lies in a magical whirl of drumming cities, cheap airlines, social media and growing expectations.
Veronika and Bálint have been working together since they were classmates at the Academy of Music in Budapest. On their previous records, the duo has developed a unique fullness of sound, making the listener forget, that there are only two musicians on stage.
Now for the first time, the duo adds even more substance to their power by inviting drummer Antoine Pierre and bassist Nicolas Thys, the two creative virtuosi Veronika met during her studies at the Royal Conservatory in Brussels.
Shapeshifter
Himmlische NowJazz Geschichtenerzähler 
Storytelling ist sowohl ein Werkzeug für den Interpreten, um zu teilen, was in seinem Kopf vorgeht, als auch eine Gelegenheit für den Zuhörer, seine eigenen Geschichten im Gehörten wieder zu finden. Genau das passiert auf diesem neuen Album des renommierten ungarischen Gesangs-Gitarrenduos Veronika Harcsa & Bálint Gyémánt zusammen mit Antoine Pierre und Nicolas Thys, einer der gefragtesten Rhythmusgruppen Belgiens. Zeitgenössische Jazzdynamik kombiniert mit osteuropäischem Feuer im Rhythmus, gespenstische Melodien und magnetische Grooves werden durch Veronikas faszinierende Stimme und das virtuose Spiel der drei Instrumentalisten zum Leben erweckt. In den Songs erzählt die Gruppe dem Publikum Geschichten aus junger und paneuropäischer Sicht und versucht herauszufinden, wo Frieden, Freundschaft und Spaß in dem Wirbel aus trommelnden Städten, Billigfluggesellschaften, Social Media und wachsenden Erwartungen zu finden sind.
Veronika und Bálint arbeiten seit ihrer Schulzeit an der Budapester Musikhochschule zusammen. Auf ihren bisherigen Platten hat das Duo eine einzigartige Klangfülle entwickelt, die den Hörer vergessen lässt, dass nur zwei Musiker auf der Bühne stehen.
Veronika Harcsa, voice/ Bálint Gyémánt, guitar / Nicolas Thys, bass / Antoine Pierre, drums
TERRITORIES
EUROPE EXCEPT FOR HUNGARY
AVAILABLE DATES
08.10.21 DE-Neustadt am Rübenberge - Schloss Landestrost*
09.10.21 DE-Agathenburg - Schloss*
10.10.21 available
*was booked an will be handled via the band's former ageny.
"Im Quartett rund um den vertrackt folk-inspirierten Gitarristen Bálint Gyémant trat die ungarische Sängerin Veronika Harcsa auf, und ihr manchmal zerbrechliches Timbre blühte besonders in einer sparsam instrumentierten Ballade über die Schwierigkeiten menschlicher Verständigung auf." BR Klassik
"Harcsa is an amazingly versatile musician, a brilliant vocalist and gifted entertainer in the best sense."  allaboutjazz.com

"Wie ein lebender Organismus atmet [die Musik] und offenbart mit wachsender Dauer viele ungeahnte Facetten." Jazzthing
"[…]das Duo der Sängerin  mit dem unverwechselbaren Timbre und dem Gitarristen Bálint Gyémánt, […] zum Quartett gewachsen, verliert ihre Musik aber nicht an Intensität, sondern legt an selbiger noch zu." Concerto, 5 Sterne
"Ein tolles Album, das aus der Masse der Jazzveröffentlichungen herausragt." InMusic
"Eine wunderbar leichte, zugleich aber sehr artifizielle Form des Jazzgesangs präsentieren Veronika Harcsa & Bálint Gyémánt mit "Shapeshifter" (beide Traumton). […] Songwriterjazz mit gleich starkem Hang zum Folk und Experiment." Westzeit
"[…] die zarte Poesie der Ungarin Veronika Harsca, die […] Bálint Gyémánt auf der Gitarre sanft untermalte, wozu zwei belgische Rhythmiker delikate Pattern woben." Westfalenpost
"A magnificent and bewitching album." Le Soir
---
PROMOMATERIAL [DOWNLOADS]