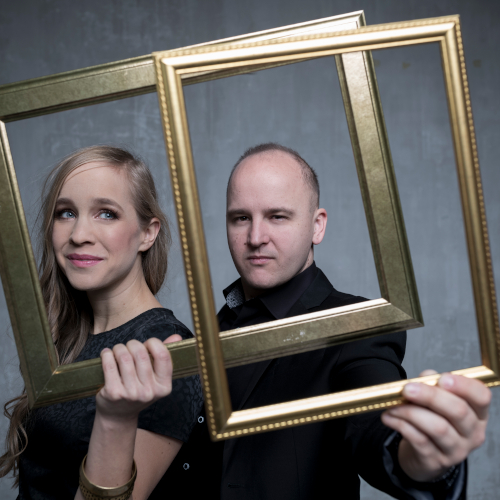 Deutsch weiter unten!
Tell Her
"Tell Her" is the second international release of Hungary's favourite jazz singer-songwriter Veronika Harcsa and guitar virtuoso Bálint Gyémánt.
Thanks to their musical versatility and detailed rhythmical interplay, the minimalist setting leads to a great effect, and the audience is surprised by the wide dynamic range between wholehearted lyrical playing and impassioned musical explosions.
Since their first duo album Lifelover was released by the Berlin-based jazz label Traumton to critical acclaim, their music got exposed to the international audience, and the two musicians became part of the European jazz scene.
The duo's music is a delicate and tasteful mixture of contemporary jazz and improvised pop music, full of depth, inspiration and humour.
Tell Her
"Tell Her" ist die zweite internationale Veröffentlichung der beliebten ungarischen Jazzsängerin und Songwriterin Veronika Harcsa und des Gitarrenvirtuosen Bálint Gyémánt.
Die minimalistische Vertonung hat zeigt dank ihrer musikalischen Vielseitigkeit und ihres detaillierten rhythmischen Zusammenspiels eine große Wirkung auf die Hörer*innen, die sich auf eine überraschend große dynamische Bandbreite zwischen vollmundig lyrischem Spiel und leidenschaftlichen musikalischen Explosionen freuen dürfen.
Seit ihr erstes Duo-Album Lifelover beim Berliner Jazzlabel Traumton von der Kritik gefeiert wurde sind die beiden ein fester Teil der europäischen Jazzszene.
Die Musik des Duos ist eine delikate und geschmackvolle Mischung aus zeitgenössischem Jazz und improvisierter Popmusik, voller Tiefe, Inspiration und Humor.
Übersetzt mit www.DeepL.com/Translator (kostenlose Version)
Veronika Harcsa, voice/ Bálint Gyémánt, guitar
TERRITORIES
EUROPE EXCEPT FOR HUNGARY
AVAILABLE DATES
17.06.22 AT-Vienna - Singer-Songwriterfestival (DUO)
18.06.22 DE-Lüdinghausen - Burg Vischering, Jazzfestival (DUO)
22.07.22 HU-Kapolcs - Valley of Arts Festival (QUARTET)
13.08.22 NL-Amersfoort - Jazz Festival (DUO)
19.08.22 IT-Sant'Antioco - Sulky Jazz Festival (QUARTET)
04.09.22 DE-Bremen - Sendesall (DUO)
21.09.22 BE-Brussels - Marni Jazz Festival (QUARTET)
22.09.22 DE-Freiburg - Jazzfestival (QUARTET)
23.09.22 DE-Helmbrechts - Kulturwelten (QUARTET)
01.11.22 DE-Kassel - Theaterstübhcen (QUARTET)
02.11.22 DE-Berlin - A-Trane (QUARTET)
20.04.23 DE-Hameln - Doubletime Jazzclub (QUARTET)
21.04.23 DE-Westhofen - Hotel am Morstein (QUARTET)
22.04.23 DE-Langen - Alte Ölmühle (QUARTET)
"Hitverdächtig" MDR Kultur
"Eine der besten jungen europäischen Sängerinnen" Jazzpodium
"Sämtliche elf Songs gleichen einer Wundertüte aus struktureller Klarheit, kluger Reduktion und poetischen Lyrics mit politischen Zwischentönen." Jazzthing
"Traumduo" WAZ
"Das wird zu einer Entdeckung und möglicherweise einer Liebe fürs Leben." RONDO
"reife und melodische Lebensliebe." Concerto
"Ein beeindruckendes weil sehr eigenwilliges Duo" Gitarre & Bass
"Ihr Duo-Album mit dem Gitarristen Gyémánt erzielt mit minimalem Aufwand eine tolle Wirkung!" spiegelonline.de
---
PROMOMATERIAL [DOWNLOADS]